3
SAP Integration: BI Office Version 6.3
Jennifer Dorothea , Senior Product Marketer
---
SAP is an industry leading provider of enterprise application software. Business users have come to rely on SAP's technologies from supply chain to customer relationship management. While these enterprise applications live on data, historically there has not been a user-friendly method for integrating such data from SAP systems with other data sources within a secure analytics platform.
With version 6.3, end users can now integrate their SAP data easily into the BI Office analytics platform. This integration makes the most out of any SAP investment, as users can now model and analyze their SAP data alongside data from other sources, using all of the functionality of BI Office.
Figure 1: BI Office, Theobald, SAP integration architecture
Getting Started
By installing BI Office version 6.3 with a license upgrade, you can connect to a Theobald SAP®-certified data connector—Xtract Universal ("XU"). Once updated, SAP will appear in the administration console under Licensing.
Figure 2: Confirm license upgrade to connect to SAP
After upgrading, add the SAP data source from the Data Sources tab in the administrative console by connecting to the Theobald connector instance. Point to the URL of the Theobald XU installation and select from the list of XU packages. Once added, the output of the data can be determined.
Figure 3: Choose SAP data source
Theobald XU needs to be installed on a machine in the network that is accessible by the BI Office application servers.
Example: Assuming you have a machine called SAPDEMO.
Install XU on the common machine. XU installation can be found here.
Use the XU Designer to configure connections to SAP sources and create packages ("extractions"). Please see the XU documentation for information on how to do this.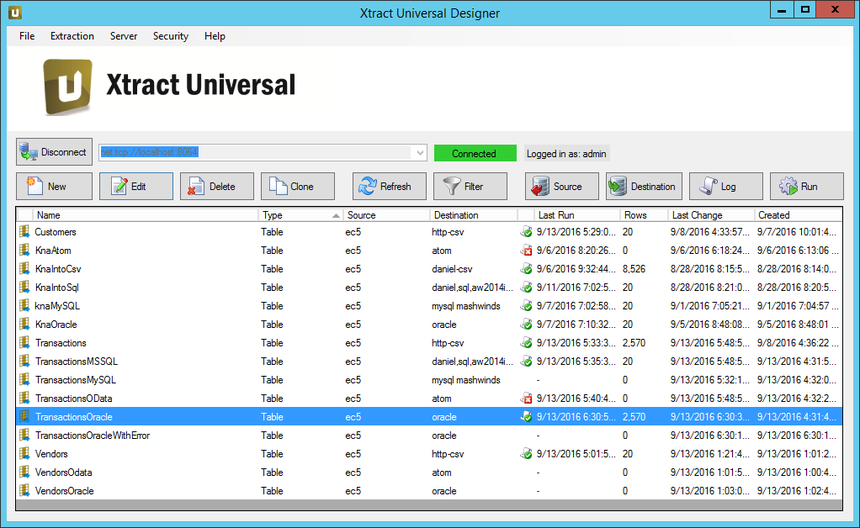 Figure 4: Configure Theobald XU
The final step is to connect to your SAP data source to create a new data model. Using BI Office's Data Modeler, choose SAP as your data source under Cloud and Others. Walk through the Data Modeler wizard to create your new data model (from only SAP data or combined with other data sources), which can then be used for BI Office Data Discovery, Story Board, or Publisher content.
Figure 5: Choose your SAP connection in Data Modeler
Summary
To recap, here's what you need to complete your SAP integration:
Upgrade your BI Office license to include the SAP integration (contact Pyramid Sales for additional information at sales@pyramidanalytics.com)
Set up the Theobald SAP®-certified data connector—Xtract Universal ("XU")
In the Data Sources tab of the BI Office administrative console, connect to your Theobald instance
Using BI Office's Data Modeler, choose SAP as your data source
Walk through the Data Modeler wizard to create your new data model (for SAP-only data or combined with non-SAP data)
Resources
SAP Integration FAQ