1
SSAS KPIs in BI Office
By David Novick, Pyramid Analytics Technical Writer
---
This blog provides a quick introduction to the usage of SQL Server Analysis Services (SSAS) KPIs within BI Office. By means of some simple examples, we will demonstrate the various features that are available in BI Office for handling SSAS KPIs.
NOTE: Custom KPIs in BI Office operate a bit differently than SSAS KPIs and provide additional functionalities such as dynamic banding.
---
When loading a data model in BI Office, the SSAS KPIs that are contained in the data model are displayed in the Measures panel with traffic light icons. In this example, we select the KPI titled "Cost per Item".
In order to view SSAS KPIs in BI Office, we open the Home ribbon in Data Discovery and click on Report Layout.

We then select one of the report layouts.
Next we choose Gauge as one of the layout options.
NOTE: If the Gauge option is disabled, it can be enabled by selecting a SSAS KPI in the Measures Panel (as described above).
We click the Run Query button to update the KPI contents.
In this example, four SSAS KPIs display the "Cost of Item" stats for the four quarters of 2010.
An example of in-grid icons is shown below. In each pair of icons, the first icon represents status while the second indicates trend.
For a full list of SSAS KPI in-grid icons, see the topic titled:
How are SSAS KPI's Mapped in BI Office?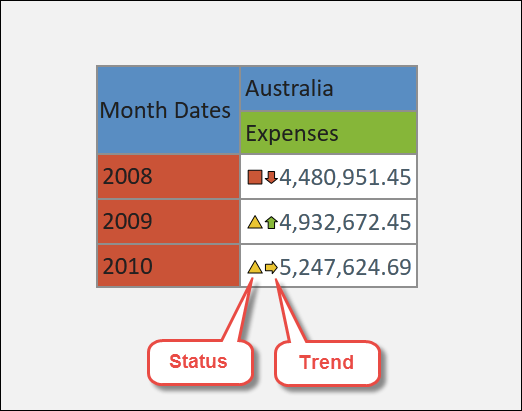 To resize the in-grid icons, we open the Grid ribbon in Data Discovery and click on the KPIs icon, as shown below. There are two methods of changing the size of the in-grid icons:
Preset Sizes
Custom Sizes
To use the preset sizes, we choose one of the following options:
Small KPIs
Medium KPIs (default)
Large KPIs
No KPIs
To set custom sizes, we click the More KPI Options command and use the dialog to specify any custom size in the 1.00 to 6.00 range. Note that the preset sizes are equivalent to the following custom sizes:
Small KPIs = 2.00
Medium KPIs = 3.00 (default)
Large KPIs = 4.00
We place the mouse over the status or trend icon to display KPI data, as shown below.
SSAS KPIs can be displayed within BI Office using several different gauge types, as shown below. The gauge type employed by BI Office for any specific SSAS KPI is determined automatically, as described in: How are SSAS KPI's Mapped in BI Office?
NOTE: The SSAS KPI gauge type cannot be changed within BI Office.
For instructions on how to edit SSAS KPIs, see the blog titled Editing of KPI Gauges.