2
Infographic Support ("Dynamic Image" type)
by Michael Raam , Principal Data Analytics - Pyramid Analytics
---
Infographics is the art of presenting complex information with simple graphic images. That short definition is agreed on by most people, but the discussion intensifies regarding what exactly comprises an effective infographic.
Pyramid Analytics BI Office provides a wide range of infographic capabilities. This blog presents some of our latest developments.
Dynamic Image
BI Office Version 6 introduces a new type of infographics known as "Dynamic Image" within our software.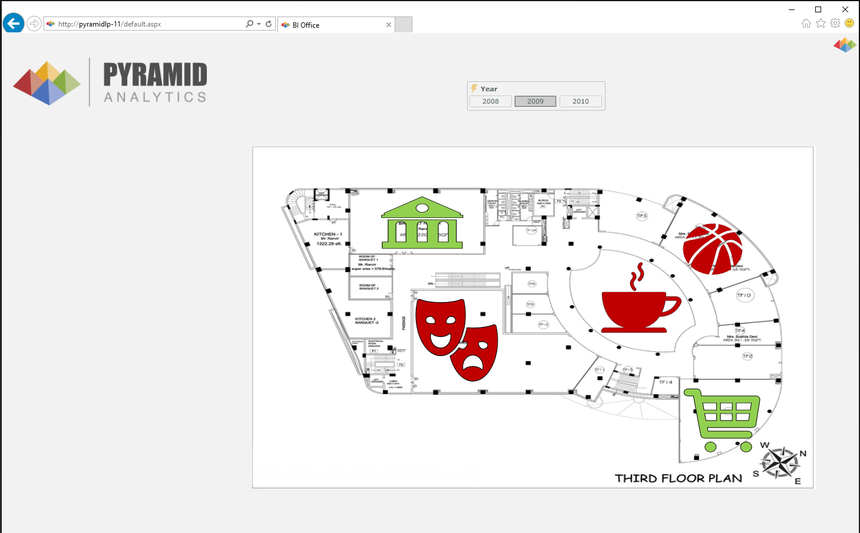 The dynamic image type allows us to create a customized, multi-object, layered and data-driven graphic. The image attributes that can be controlled are as follows:
Color – Object color can be changed based on a value. For example, an object might be green if a target is met, and red if the target is not met.

Hide/Show – An object can be toggled between visible and hidden based on a certain value. For example, the object could be visible when relevant data is available and hidden when data is not available.

Size – The size of an object can reflect a value. For example, an object can become bigger as the relevant sales figure increases.

Volume – The volume of the object can be filled as a function of its value. For example, an object could be filled in proportion to a utilization percentage.

Rotation – The rotation of an object can based on its value. For example, an object points upward for a positive financial outcome and downward for a negative financial outcome.

Text – The text label of the object can be dynamic and driven by data content.
Example of Dynamic Image
In this example we present a shopping mall map containing several dynamic images – each representing a business (Movie theatre, bookstore, coffee shop, sports store, and a bodega).
Green coloring indicates that the business met its financial targets, while red coloring that the business did not.

The slicer allows us to display results for different years.
Overview of Process
STEP 1
Create the visual by importing the background image (ie the floor plan) and individual dynamic image objects via a point-n-click wizard.
STEP 2
Add business logic to control object attributes. In this case, we control the color of the movie theater complex based on revenue margin.
STEP 3
Preview and save the dynamic image as an asset. One of key advantages of the Pyramid approach is that the graphic can be shared among users based on access rights and data security restrictions.
STEP 4
The final step is to add the dynamic image asset to the Story Board and link it via an interaction to other elements on the Story Board. In this example, we have used a slicer element to allow year selection.
And that is it. Now you have a dynamic image/inforgraphic that is not only visually engaging but tied deeply to existing data.
Other examples of Dynamic Images in Action
This is an example of a manufacturing/sales operations dashboard for a bicycle company.
This includes a dynamic image of a bicycle that changes colors based on Sales amount for the current week vs same week in the prior year. The image also contains some dynamic text tied to the slicers and a Quantity Sold report, so as the slicers change the text updates to show the selections and quantity sold for the combination of Product and Country.
This is an example of an operations dashboard for an oil and gas company.
This includes 3 dynamic images that change Volume based on a production volume report, each tied to a different column in the report. The images also have a static text title and dynamic text showing the production volume amount from the production volume report. These are dynamic based on the slicer and an interaction with bars in the bar chart in the bottom right.
For more training, please visit the following tutorials.